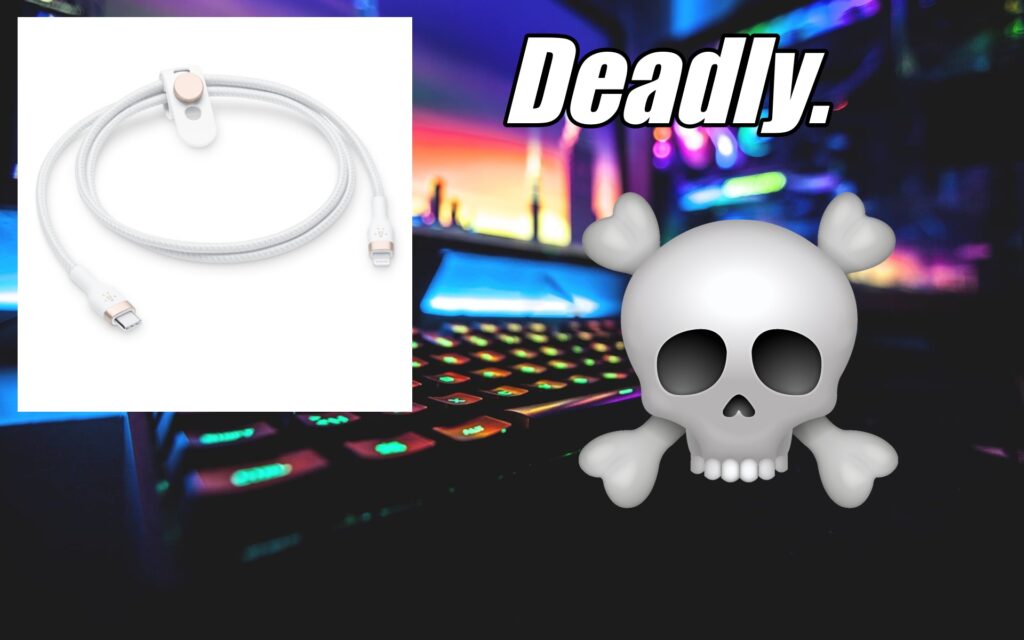 How an apple charger can destroy everything.
you're probably wondering how something as harmless as an apple charger or a usb could be dangerous. Well learn about an Apple charger that can self destruct to an USB that keeps track of what your typing.
The origin.  Watch out out for this dangerous tech.
Where does it come from you might be thinking, a company known as Omg sells this tech known as attack hardware. Now that you know some info of the origin of this attacking tech lets tell you the types of ways these pieces of hardware can ruin you and your life.
 The first example
The first situation known as GeoFencing is sort just like bluetooth. A normal cable has a little area that has a scanning device that looks for networks around it and knows where it is. For example if one coffee shop has wifi after sensing that network it knows the users general location, And thats not all it can do. You see the thing is why would a company or group want to know your location and therefore the user doesn't have to use the cable, But one person might want this info to spy on you. All of this comes for a core or base chip that you can type commands into and see more than just your location such as entering commands into the cable effect the device too because this cable can also open up your files and easily access your data. But a lot don't do bad for one reason, it always comes back to them well, not always because this one single cable can erase all data and never be traced back to the user. But even crazier is that is can physiclly sever its self and in a sense self destruct, all from someones device inputting commands at home.
The last example.
The next thing is a usb that when plugged can hand over admin to anybody and execute any commands in a few seconds and all your laptop does is allow it thinking its just a secondary keyboard. Now we can bring this all to the next level now you've seen all these powerful tech pieces but this next cable can do all you've just seen and a little bit more. The cable is capable of key logging someones keyboard. So imagine this you sat down ready to watch some Netflix on your laptop so you enter your password log in and you come back an hour later all of your accounts you've logged into are all changed with new passwords. All because one cable that someone used saw all the things you typed word for word and stole the accounts just with one simple cable
Conclusion
Now that you know how an apple charger can destroy everything with all this combined you might start panicking and calling you tv remotes hackers but there are ways to protect your accounts. Now with all you've seen you might think thats impossible but not to worry just click here and a whole new way to keep you and your family safe will appear. also consider sharing this to warn others of what they use in their daily lives.