Some laptops come with convertible functions, that is it can be used either with the conventional keyboard, and also, it can be used as a tablet with the touch screen option. But there are some active input pens available to make your work easier and also it will help graphic designers and artists. If you feel that the thumb is not efficient to do all the work then you can use the pen for touch screen laptops to do digital work, statistics work, and any kind of business work. Here are the lists of the top 5 stylus pens touch screen laptops.
Top 5 Pens For Touch Screen Laptops:
Adonit Pro 4 Stylus Pen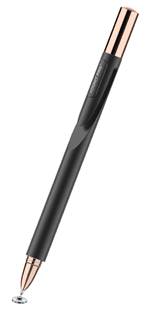 Adonit Pro 4 pen is a stylish luxury and capacitive stylus pen, which has high sensitivity. The Pro 4 stylus pen for the touch screen laptop has beautifully designed and it is an improved and extraordinary version of Pro 3. So, this Pro 4 is worth buying because of its stunning design and high efficiency.
The pen is providing three options in the color, and also it supports the palm rejection to emphasize precision. It can be used without any worries as it is smudge-free and scratch-free, and the material used to manufacture this pen is lightweight aluminum so it will be free from other physical trails also when it is used on the touch screen. When the pen is used over the touch screen you can feel the soft touch with high stability. On the top, a cap made of copper is attached that will improve the texture and the grip. Its sleek design can fit into your bags and even in your pockets so that you can carry it anywhere you want.
Wacom Bamboo Ink Plus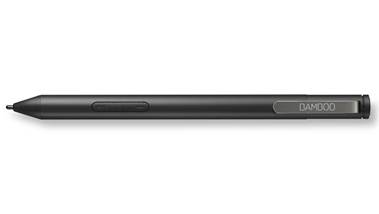 Wacom Bamboo Stylus pen comes with a wide variety of features and also it makes sure that the users are experiencing smooth and pleasant writing over the touch screen. It comes with a rechargeable battery, so it takes three hours to get a full battery but will long-last for 10 days even when you use it frequently. You can charge it by inserting it in the USB-C port also by making it convenient for the users.
This stylus pen not only has a long battery life but also will provide a grip and support while holding the pen over the touch screen. This pen can be used for all kinds of Windows 10 devices. This 2 in 1 device is made of a rubber pencil so that the user can feel the pen presence naturally. You will also get three types of replaceable nibs along with this pen and you can use any nib based on your comfort and usage. It will get access to Windows devices or any other Bluetooth device instantly.
Read more:
Top 5 Lenovo Laptops With Touch Screen And Review Of Each Laptop
Mikict Active Stylus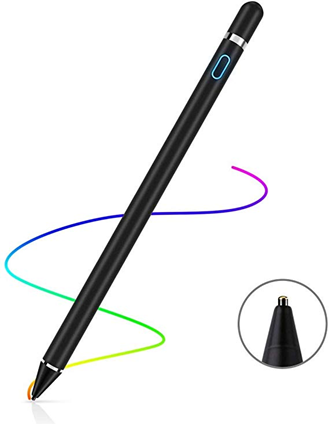 If you are looking for an active stylus pen with advanced features then this pen would be the best option to choose. It also comes at an affordable rate by making a budget-friendly device. Also, you can use this Mikict Active Stylus pen for all kinds of touch screen tablets and smartphones, and the pen can be operated by using one button. So it doesn't require any USB or Bluetooth to connect to the devices.
This stylus pen comes with Precision point control features so while using over the touch screen it will be highly sensitive and also a tilt is enough for the line weight and subtle shading. The tip is made of irreplaceable copper and the tip measure about 1.5mm to provide a realistic feeling.
They didn't use rubber material while manufacturing this pen so that the durability can be increased. It comes with an automatic feature that is if the stylus pen is not used for more than 30 minutes it will automatically get power off to conserve the battery.
Digiroot Universal Stylus Pen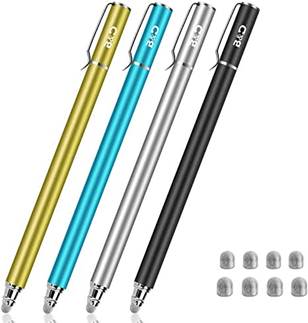 This Digiroot Universal Stylus Pen is worth buying as it can be used for all kinds of touch screen phones, tablets, and laptops. The pen is well-built and also its lightweight is attracting many users.
This pen for touch screen laptops is highly sensitive and it will respond quickly while using over the touch screen. It doesn't need any battery so it can be easily carried and also it is easy to use. It comes with a transparent disc, so you can able to see the tip and its pointing. So, you will get an accurate point for any kind of activity such as writing, drawing, browsing, and playing games. The tip is made of rubber and along with this pen; you will get 9 replacement tips, 6 discs, and 3 fibre tips.
The grip is made of rubber so that it will be comfortable to hold and also it comes with a protective cap without causing any damage to the nib. You can easily change the tip by using a finger and replaced it with a new one.
Heiyo Active Stylus Pen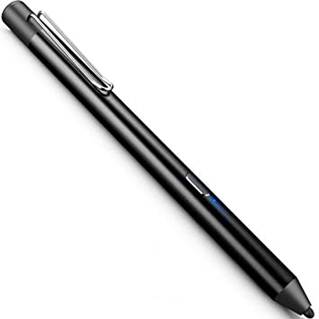 Heiyo Active Stylus pen for the touch screen laptops is popular among the users because of its in-built battery and automatic power-off feature. This stylus pen can also be used for iPad touch screen laptops. The design is made by the technical team to ensure that it is giving a smooth experience like a real pen. While using the pen over the touch screen you won't get any breakpoint, no offset, and no lag.
This stylus pen has passed the FCC and RoHS certification so the battery will come for more than 30 days. For charging it will take only 4 hours but offers a long battery life. Also, to save the battery it will automatically power-off when it is not used for more than 120 seconds.
The tip is made of rubber and it comes with 3 rubber-made tips so that the screen of the laptop can be prevented from any kind of scratch. Also, the stylus pen is offering 100% compatible with any kind of iPad device.