Almost a year has passed since Support for Windows 7 ended. Thus, Microsoft wants people still using Windows 7 to upgrade to Windows 10 to ensure that their devices run securely and well. Folks with an older laptop or PC still running on Windows 7 can purchase Windows 10 Home on The Microsoft website. They need to pay $139. However, it's not a must to pay this amount. MS had a free upgrade offer that theoretically ended in 2016. However, many people can capitalize on it. So, how can those who are interested do this windows 10 upgrade from windows 7? However, before we go into that, we will discuss the importance of upgrading from Windows 7 to Windows 10.
Why is the windows 10 upgrade from windows 7 so important?
Microsoft offers minimum support of 10 years for all its OS versions. The 10-year life cycle of Windows 7 has ended. People can still run their PC on Windows 7. However, they won't get any security updates or fixes. They won't get technical assistance for any issues. Thus, their PC will be at more risk from malware and viruses.
With a windows 10 upgrade from windows 7, they will get several security tools. The Windows Defender Antivirus will offer protection from spyware and malware across apps, email, the cloud, and the World Wide Web. Windows Hello will let users unlock their devices with their face or a fingerprint reader. "Find My Device service" lets users lock and erase the date of their device remotely and map their device's location.
And this suite of security tools isn't all. Windows 10 has several improvements.  A significant improvement is a fast startup. With the DirectX 12 3D engine, avid gamers can enjoy better frame rates and improved image quality.
Then there is Contana. Users can do several windows tasks hands-free. With Contana notebook, users can monitor their interests, including local weather, traffic on their standard routes, etc.
A significant improvement is the "Windows Store." Users can find software they require. They can also run apps windowed and full-screen. Users can also get app notifications and share an app on social media. Users can rent or purchase TV shows and cinemas and shop for purchase.
There are several other improvements, including voice typing, Xbox App, Action Center, and many more.
Upgrading from windows 7 to windows 10 for free
People who are running a genuine copy of Windows 7 are entitled to a free upgrade. On completing the update to Windows 10, people will get the most potent Windows, with all their settings, programs, and data intact.
Doing an OS upgrade is a bit time-consuming, and so people should keep 1 to 2 hours in hand to do the installation. People whose internet connection is slow or inconsistent should go over to a place with a strong connection.
They must back up all their data files as there's a likelihood of something going wrong during any system update. People who haven't created a system restore disk should do a full system backup.
Below are the steps for windows 10 upgrade from windows 7 via Direct Download.
First, people should visit https://www.microsoft.com/en-us/software-download/windows10 and click on the button labeled "Download Tool now."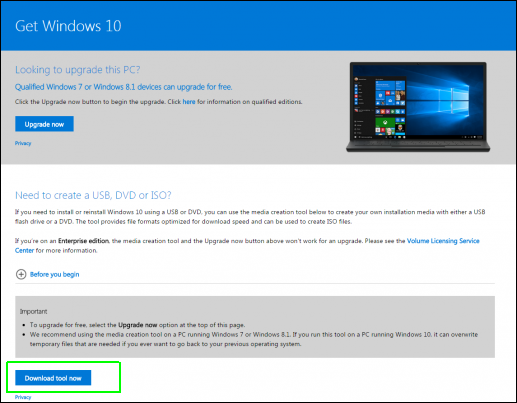 Next, they initiate the Download Tool, and a screen comes up with two options. They are "Upgrade this PC now" and "Create installation media for another PC."
The first option is to install windows 10 on a computer right away. The second option is useful for upgrading several PC or reinstalling on the present PC if the need arises. We will talk about this in detail later.
We will discuss the first option of upgrading immediately. So, people click "Upgrade this PC Now" and click Next.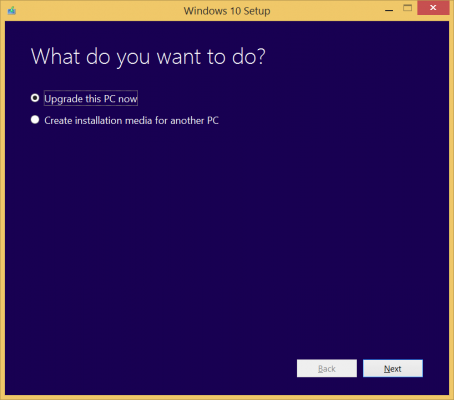 The license terms screen appears, and people should click on Next. This screen will stay for several minutes as the software checks for any updates.
A screen will appear, and people should select "keep personal files and app," failing which this upgrade won't work. They then click on Install. The PC will copy files, and thus people should be ready to wait for 20 to 30 minutes. Their PC will also reboot quite a few times.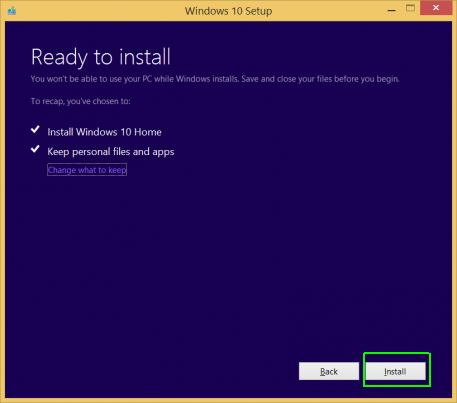 Now, the login screen will appear. People should Click Next on this screen.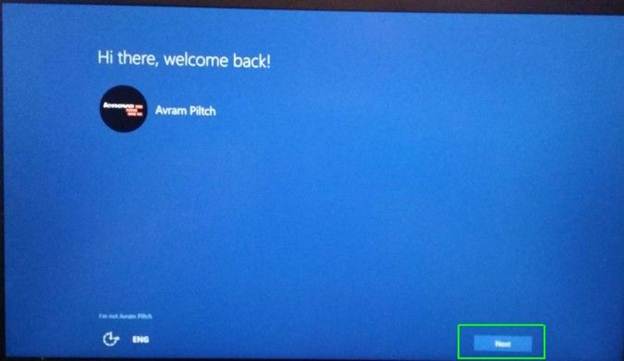 On the screen that appears, people should click on "Use Express settings." They can change some settings after the installation is complete.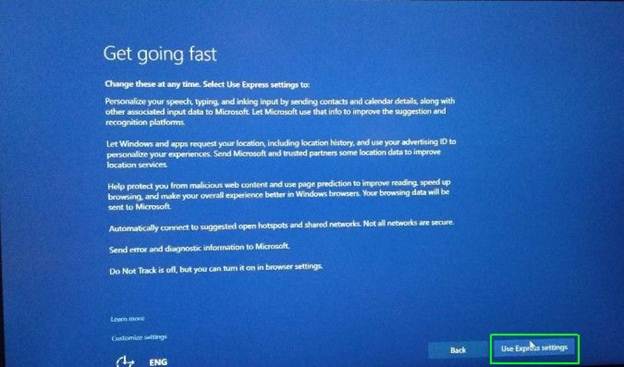 A screen titled "New apps for the new Windows" will appear, and people should click on Next.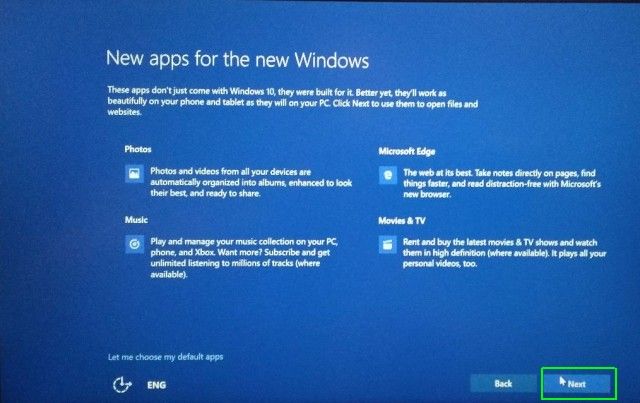 Their PC will read, "finalizing your settings." Next, they will be taken to the Windows 10 lock screen. They will need to wait for some more minutes as windows 10 does an initial setup, and they can log in to their Windows desktop.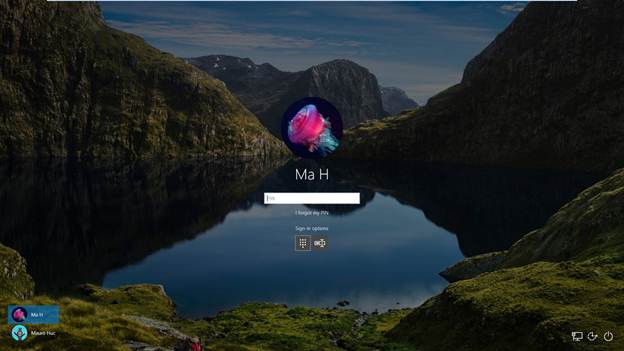 That is it. People have upgraded their PC from windows 7 to windows 10.
We will now discuss the option of creating installation media for another PC.
People should have a blank DVD or USB flash drive of 4GB or larger. They should insert their flash drive in one of their USB ports or insert the blank DVD.
They should download, install, and launch the Download tool and then select "Create installation media and click Next."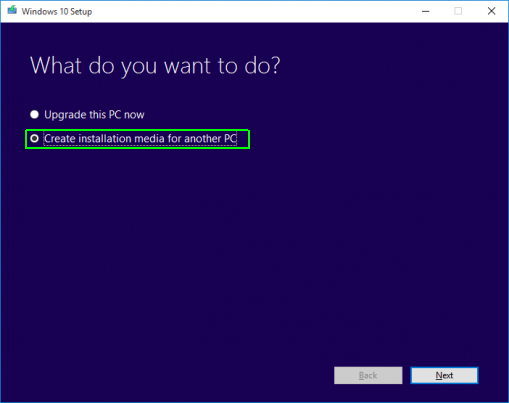 They must now choose their language, edition, and architecture of Windows. They should ensure that they select these in keeping with the PC they are upgrading. A case in point is a person who has Windows 8 Home (64-bit). He should select Windows 10 Home 64-bit.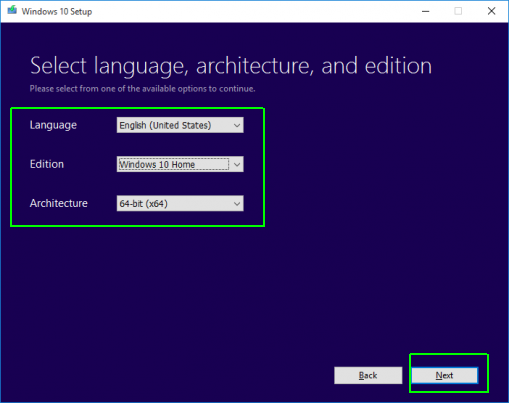 People who are using a USB flash drive should select this option. Those who plan to use a DVD should choose the ISO file option and click Next. After the process is complete, they will need a DVD burning program for writing the ISO file to their DVD.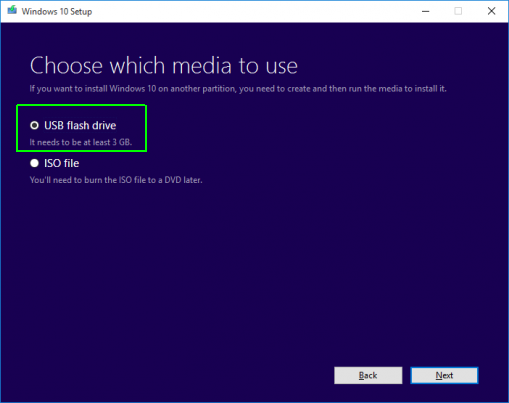 A screen will show that their USB drive is ready. They must click finish. So they have created a USB drive that has Launch setup.exe. With this flash drive, they can do a windows 10 upgrade from windows 7 whenever they wish to.