There is hardly a day when many people don't take a screenshot of something on their PC. The screenshot maybe for work. It may be a snippet of a video they wish to share with their friends. It could be something else. For Windows 10 users, there're built-in tools, including Snipping Tool and Snip & Sketch, and some keyboard shortcuts like Print Screen Windows 10. With Snipping Tool and Snip & Sketch, users can annotate their screenshots, share them via mail, etc.
People wanting full-sized screenshots of web pages have a hidden feature inside Developer Tools on Google chrome. However, this feature captures the viewable screen, which may not always be usable. The right way that Windows 10 users can get full-page screenshots of their Google chrome window is with a Chrome Extension. Below, we discuss some of the best Windows Chrome Extensions.
Picpick is a great Chrome Extension to Print Screen Windows 10
Users can use PicPick for free in a home environment. Users can take do various sorts of screen captures and edit them with the built-in image editor. They can do Active Window, Fullscreen, Window Control, Region, Scrolling Window, Fixed Region, and FreeHand.
There are keyboard keys for the primary operations. However, users who would rather use the mouse can do with the system tray menu.
The image editor opens by default after users capture something. Users can modify this and copy the captures to the clipboard, save them locally, or even transfer them to remote locations.
The image editor offers various useful tools, including:
Adding text (with font, color, size, and different formatting options)
Adding shapes including boxes, arrows, and highlighted areas
Selecting a part of the captured image for blurring, pixelating, sharpening, or copying
Adding effects to the captured image and resizing and rotating them
Freehand drawing
Users who want to take a scrolling screenshot must press and hold the Ctrl and Alt keys together and press PRTSC. A rectangular box tinted in red will appear.
Users should press the left mouse button and keep it pressed and drag their mouse on the window to choose the area.
Next, they release the mouse, and an auto-scroll happens slowly. Within seconds, a screenshot of the whole window is captured.
Download URL – https://picpick.app/en/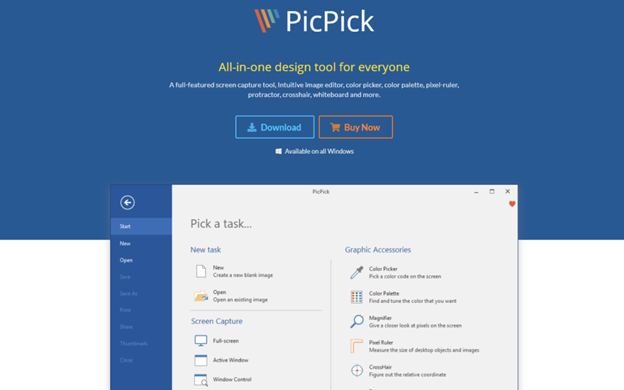 Nimbus
This Screen Capture Tool takes care of users' screen recording needs. It has a fantastic interface and has several useful features.
Users can easily take screenshots of the whole web screen and a chosen part on the screen. They can also edit the recorded screenshots or customized results. Users can also capture videos and customize them with write, blur, draw, and crop tools. Users can choose a freehand pen tool or a line tool. They can add circles, rectangles, and arrows to images.
Users can use keyboard shortcuts and save their captures in several popular formats, including PNG, BMP, and JPG, and more.
Users save the captures to Google Drive or send them for printing to a printer.
Some great features of this program are:
Five sorts of screenshots – They are entire screen, Blank shot, the entire page, the visible part of the page, and selected area
A very interactive user interface
Useful editing features for customizing screenshots with finer details
Keyboard shortcuts
Useful for developing tutorials from screenshots
Users can capture their screen in three ways:
By using the button in their address bar
With the context menu;
By using a hotkey, they assign in the program settings
Download URL: https://nimbus-screenshot-screen-video-recorder.en.softonic.com/?ex=BB-1549.0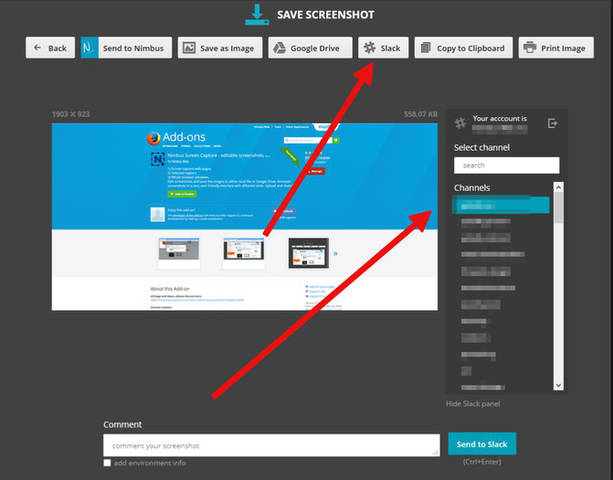 Lightshot
It is a very convenient Chrome Extension Available to Print Screen Windows 10. It is very user-friendly, and everyone with basic knowledge of PCs can use it. People who want a basic screenshot application with no advanced operations and utilities won't get a better deal.
What are some significant advantages to this tool?
It has an en suite editor with some elementary editing features, including drawing rectangles, markers, arrows, adding text, and altering colors. Users can edit their screenshots immediately after they select the part to be captured. This tool does not have advanced editing options.  Those who want more advanced editing options can edit their screenshots with the Pixlr Editor.
It has several sharing options for users to share their screenshots with anyone. They can share their screenshots on social media, including Twitter, Facebook, Pinterest, and VK.
Users can directly upload their screenshots to the prntscr.com cloud service. Uploading is very fast. In this way, they can monitor all their screenshots.
Almost all tasks have their hotkeys. They make the process faster for users.
The tool offers a reverse image search feature. Users can find similar images to their screenshots on Google.
Finally, this tool is straightforward to use. People who want to capture a screenshot need to press the print screen button. This will initiate a dark overlay over the present. They need to click and drag their mouse to select the part they want to capture.
Download URL: https://app.prntscr.com/en/index.html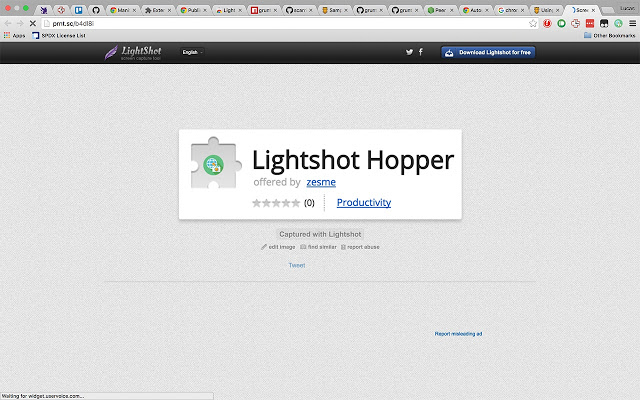 Full Page Screen Capture
This interesting Chrome Extension Available to Print Screen Windows 10 facilitates capturing full-page PNG screenshots of all websites.
The innovative screen capture technology takes care of complex pages, including embedded iframes and inner scrollable elements. It's also useful for capturing substantial webpages. For a very bulky page, the tool separates the page into smaller screenshots, and each screenshot appears in a separate tab.
With this tool, users can capture the stickiest headers visible at the top of pages when they scroll.
Users can save the screenshots they capture in several file formats, including JPEG, PNG, or PDFs of different paper sizes.
Users get their screenshot results in an automatically formed tab. Users can zoom in and scrutinize the screenshots.
Users can access all their screen captures and the details for them in a "History" section.
Finally, this tool is super-easy to use. After deploying it like all typical Chrome extensions, users can activate it by clicking its icon beside the address bar. Then, it scrolls automatically and captures the website.
Download URL: https://gofullpage.com/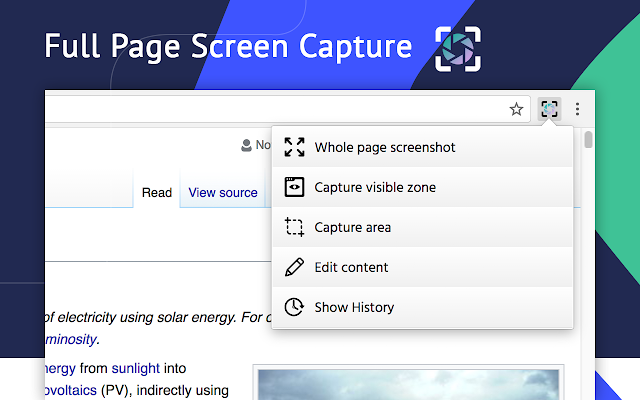 snap
People who need to grab web page snapshots on Chrome should try this tool. This extension will bring features that should fulfill all their needs to capture and share a web page area.
Users have access to the Editor tab. They can crop the relevant part of a screenshot, blur specific elements, and insert annotations.  More? They can emphasize a particular part with rectangles, arrows, and more shapes. Users can fine-tune the line color and size for all shapes or text elements.
Users can adjust the font size. In this way, they can add explanations to text fields and callouts.
Hardly does a person do a single screen capture. Given this, qSnap has several screen capture functionality.
There is a timeline of all screen captures that a person does. The person can toggle choose a screen to view it. He can add more screen captures to the timeline and even add images from his PC.
Users can share one screenshot or all screenshots of a session. A copy of the URL of their clipboard is generated. All links are saved to a hosted service, and thus users can access a history of their images. Users can also share their photos directly with a free qSnap account.
Capturing with this Chrome Extension Available to Print Screen Windows 10 is super easy.  Users need to click on the qSnap icon beside the address bar. Their screenshot opens in a tab with a toolbar at the top.
Download URL: https://www.qsnapnet.com/